About six months ago, I got together with the local Fanpro Commando and we decided to run an event at a local big gaming convention over near Seattle.
At first, the plans were grandiose, and I cautioned him to tone things down a bit. A well-executed small plan was better than blah blah blah. You get the idea.
I offered to make some cool prizes. Since a BattleTech snowglobe had recently autioned on Ebay for over $600, I figured that would make a cool prize, and proposed the idea. He agreed. I ordered $80 in globes, and started on the minis.
Further down the road, he presented me with several miniatures to paint in specific schemes, and gave me a couple of months to do them. My payment? The Commando would cover the cost of attending the convention for my son and myself, when we went to help run his event. That was all.
The mini count rose as time passed, until I was staring at about 65 units. Many needed reassembly with pins and epoxy. Others needed bases, or reposing. Still others needed stripping. I hemmed and hawed - some of you know how it is when you have such a large project in front of you, and the rest of life beckons.
Suffice it to say that, as as the days passed, my Commando friend's ideas grew smaller and smaller, and the time we would spend at the convention grew shorter and shorter. All the while, the actual day to day organization remained fuzzy. All I knew was that we were going to wear collared shirts, with appropriate CBT patches. I got to contacting various CBT-related businesses for art, so we could add to the patches with embroidery.
Well, I invited him over to my house at least twice, so that he and I could nail down some specifics, but he never seemed to have all the info he needed to make decisions on hand. So more time passed. The fourth member of our team was dropped - I wasn't sure why, something about how he'd wanted the freedom to come and go as he pleased. Then I was informed that the patches we'd been talking about, weren't going to arrive in time to be sewn to the shirts we'd already bought.
It was in this mood that I began to prep the minis for the tournament. I had modified, assembled, mounted and primed all of them, and had five camo scheme paint jobs done, when I got a call from the fourth member, a fellow a couple of years older than me.
Seems he wasn't sure at all what was going on. When I informed him that he was an 'unofficial' assistant, he got miffed. No one had told him what was going on with anything. So, half-jokingly, I invited him over to the house to shoot the breeze and help me whip 60 miniatures into shape. To my suprise, he accepted. When I came home on Friday evening, he was waiting there for me.
Looking back, I wish I had known what we were getting into. Ten Davion Guard in the traditional red, white and blue. Ten or so more in camo scheme. The rest were Word of Blake. The vehicles were to be in camo of some kind, and there were about eight on each side. All the BattleMechs required flocking, stones or some other decoration of the plain hex base. I'd lost internet connection a few days before, so we couldn't look at schemes at CamoSpec Online - we had to come up with something on our own. We started painting on Friday at about 8:00pm. Finally broke for a smoke, chat and then to bed about 0100. Got up at 0830, ate, ran some errands, got to work at 1100. Worked until dinner at 1900, then back to work until midnight. Sunday morning, 0830 until 1230, then 1300 to 1800.
When I closed my eyes at night, I dreamed of drybrushing. My partner began unconsciously making drybrushing motions with a straw he was holding for his soda, on one of our lunch runs. I love to smoke cigars, but I never took a break for them - or anything - until after midnight, when my painting partner went to bed. It was
very
intense, but he finally went home to his family on Sunday night, leaving me with some decals and metal trim to do on about twenty minis.
As he was waiting for the ferry going north, he got a call from the Commando. My painting partner called me shortly thereafter to inform me (from the middle of a three-hour long wait in the ferry line) that our friend the Commando had cancelled our entire convention appearance.
It seemed he just couldn't get the time off from work.
The fellow who was supposed to relieve him for the weekend, backed out unexpectedly. And the Commando didn't want to forgo the hours, as he had to make the rent. So that was that.
I was steamed. My son was bitterly disappointed. The miniatures were all done. And we still had the shirts to pay for. We were out a lot of time and money, and we wouldn't even get to go to the convention. It seems that, rather than pay $30 a head back when we first proposed this idea, our Commando friend had waited to pay at the door. Which now ran $60 per person. There were no exceptions, not even for folks running the games.
So now the point of this whole thing - what to do with the minis? I have had several suggestions:
1) Turn them back over to the Commando on receipt of two admissions to the Convention - which is over. That's about $120. Of course, the camraderie, the fun of being at a convention, the exposure to all that other stuff, visiting the East side for three days, the sheer adventure of it all - that we get screwed out of.
2) Hold them until the man pays me for the work I did. I thought of charging $7 each, but have had professional friends tell me they would charge $10 minimum. Even at $5 each, the total comes to over $300. And I don't think the Commando can afford that.
3) Dunk them all in a bucket of acetone, let sit for a few hours, then put the metal bits into plastic envelopes with names on them, then into a box and let the Commando sort them out.
Check out the picture for a sample of what I accomplished. Oh, and the carrying case? That's my own construction, from a visit to Goodwill and some foam. It's two layered. I was going to throw that all in for free. Can you imagine?
Oh, and before I forget, I had to use HMP to generate a unique PDF file for every single miniature, then drop the whole thing on a CD.
All for nothing.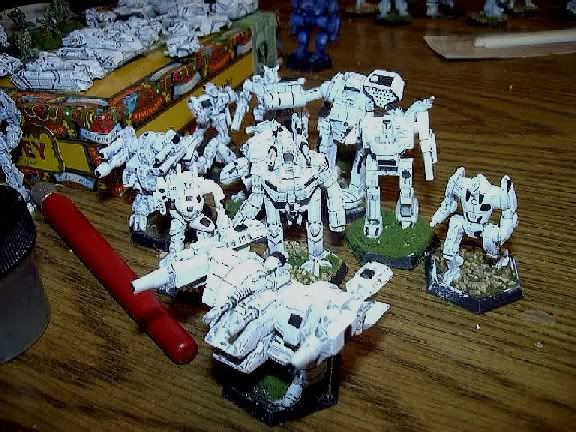 Cent13